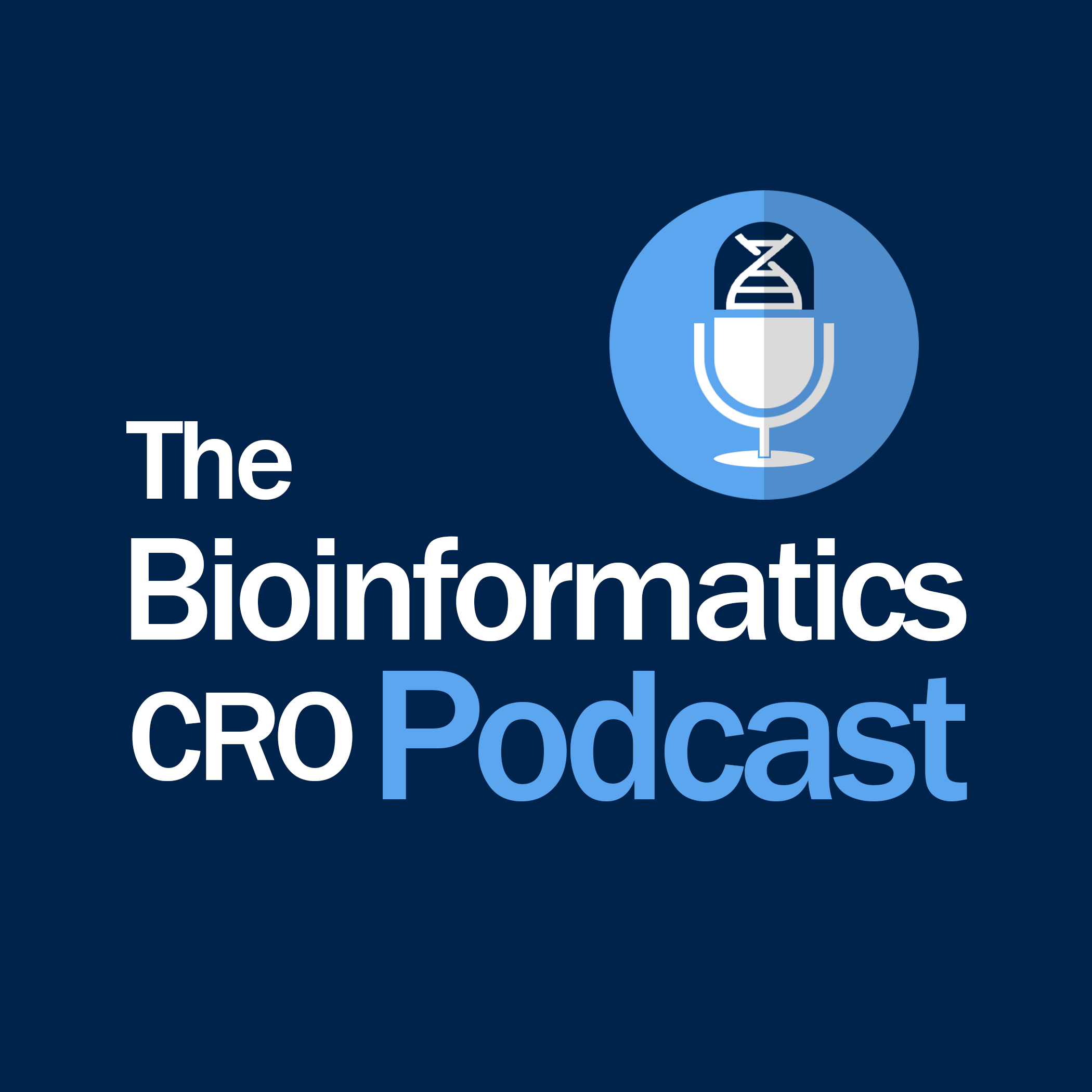 The Bioinformatics CRO Podcast
On The Bioinformatics CRO Podcast, we chat with scientists and others in biotech to discuss interesting topics across biomedical research and to explore what made them who they are today.
Our guests include biotech CEOs, science communicators, academic researchers, and more.
Jeremy Kamil

Jeremy is an associate professor of microbiology and immunology at LSU Health Shreveport. Usually his lab uses molecular genetic and pharmacological approaches to study human cytomegalovirus, but since the pandemic started, they've shifted to SARS-CoV-2.
Adam Robertson

Adam is Chief Scientific Officer, at Hemispherian, where his team is working to develop broad-spectrum anti-cancer therapeutics. After receiving his PhD from UNC Chapel Hill, he moved to Norway and established his own lab at Oslo University Hospital.
Brett Abrahams

Brett is the Vice-President of Research & Development at Magnolia Neurosciences, which is developing therapies for chemotherapy-induced peripheral neuropathy and other neurological disorders. Previously he was head of pre-clinical biology at Ovid Therapeutics.
Noor Siddiqui

Noor is the Founder and CEO of Orchid, a reproductive technology company. Prior to Orchid, Noor was an AI researcher at Stanford where she worked on applications of deep learning to genomics. She was also formerly a Thiel Fellow, working at Remedy.
Jimmy Qian

Jimmy is co-founder and COO of Osmind, which has developed an electronic health records system tailored to people with treatment-resistant mental illness. He is currently on leave from Stanford's MD program, and has previously founded multiple successful non-profits.
Lucia Huang

Lucia is co-founder and CEO of Osmind, which has developed an electronic health records system tailored to people with treatment-resistant mental illness. She received her MBA from Stanford and, previously, worked to help find cures for ALS and Parkinson's at Verge Genomics.
Deepti Gurdasani

Deepti is a clinical epidemiologist and senior lecturer in machine learning at Queen Mary University of London. During the COVID-19 pandemic, she uses machine learning to understand prominent clusters of patients' symptoms and how people are likely to progress over time.
Christina Pagel

Christina is director of the Clinical Operational Research Unit and a Professor of Operational Research at University College London. During the COVID-19 pandemic, she works closely with clinicians and public health professionals to communicate research to the public.
Nisreen Alwan

Nisreen is an Associate Professor of Public Health at the University of Southampton, researching maternal and child health. During the COVID-19 pandemic, Alwan uses social media to communicate public health messages and to call for long COVID to be counted and measured.
Grant Belgard

Grant is founder and CEO of The Bioinformatics CRO as well as head of bioinformatics at bit.bio. He previously earned a doctorate from the University of Oxford as a Marshall Scholar, with joint training at the NIH, and worked as a research scientist in biotech.
Ambika Bumb

Ambika is the health science and technology advisor for the department of state's crisis management and strategy. Previously she studied nanodiamonds as a NIH-Marshall Scholar and subsequently founded Bikanta applying nanodiamond technology to diagnostics.
Lucas Steuber

Lucas is clinical product and marketing director at Cognixion. A renowned linguist and speech pathologist, he has helped develop a brain-computer interface with augmented reality to help people with speech disabilities communicate.
Trevor Martin

Trevor is co-founder and CEO of Mammoth Biosciences, discovering novel CRISPR systems that enable new possibilities for expanding biology. For example, using CRISPR as a COVID-19 diagnostic test. He has previously been honored as Forbes 40-under-40.
Dan Geschwind

Dan is a professor and associate vice chancellor at UCLA. His group has pioneered the application of systems biology methods in neurologic and psychiatric disease, with a focus on autism spectrum disorders (ASD) and neurodegenerative conditions.
Delian Asparouhov

Delian is the co-founder of Varda Space Industries and principal at Founders Fund. He was awarded the Thiel Fellowship in undergrad and moved from MIT to Silicon Valley. His company Varda is working to manufacture products such as human organs in a microgravity environment.
Vania Cao

Vay is a neuroscience Ph.D. who made the transition from academic postdoc to business professional at a biotech startup. She founded Free the PhD to provide career counseling and a peer support system to current students looking to move out of academia.
Mark DePristo

Mark is the founder and CEO of BigHat Biosciences, using AI to design antibodies and other therapeutic proteins. He has a wide range of experience, having previously worked at the Broad Institute, Google and a biotech startup.
Shaan Gandhi

Shaan is a Director at Northpond Ventures and leads its Boston office, investing in life sciences companies and collaborating to build new ventures. He earned a DPhil at Oxford University as a Rhodes Scholar, and an MBA and MD from Harvard University.
Peter Joyce

Peter is cofounder and Chief Executive Officer of Grey Wolf Therapeutics and has over 13 years of experience in biomedical research leading drug discovery projects in immuno-oncology, rare genetic diseases and neurodegeneration.
Adam Marblestone

Adam is a Schmidt Futures Innovation Fellow, working to roadmap and launch science and technology moonshot projects that call for novel organizational and funding models. Previously, he worked at DeepMind, Kernel, and George Church's lab.
Tony Altar

Dr. C. Anthony Altar has 35 years experience in discovering and developing pharmaceutical- and gene-based therapies. He is currently President and COO of Splice Therapeutics, using RNA trans-splicing molecules (RTMs) to correct inherited or acquired mutations that cause disease.
Quin Wills

Quin is an MD and computational biologist. He co-founded Ochre Bio, a liver drug company 15 years ago, co-steered Oxford's single-cell genomics consortium, and founded the Cellular and Systems Genomics department for a leading biopharma.
Jason Stein

Jason is an Assistant Professor at The University of North Carolina at Chapel Hill. His lab explores how variations in the genome change the structure and development of the brain, and in doing so, create risk for neuropsychiatric illness.
Ben Logsdon

Ben is the director of computational biology at Cajal Neuroscience, a biotech company focused on neurodegenerative diseases. Formerly he was Director of Neurodegenerative Research at Sage Bionetworks.
Chris Ponting

Chris is Chair of Medical Bioinformatics at The University of Edinburgh and principal investigator at the MRC Human Genetics Unit, where he uses computational biology to study myalgic encephalomyelitis (ME/CSF) among other questions.
Razib Khan

Razib is a geneticist, science communicator and director of science at the Insitome Institute. He frequently writes about evolution, genetics, religion, politics and philosophy on his blogs: Gene Expression and Brown Pundits.